The Beginning: A lot of people go through college having no clue what they want to do after. I was that person, "sort of". I went to school to get a business degree because one thing I did know is that one day I would want to own my own business. I remember in 5th grade my teacher had a conversation with me and a few other students about where she envisioned us when we got older, and I remember her looking me in my eyes and saying, "Treston, I can see you as a successful businessman." She said it with so much confidence that it stuck with me since then. As I look back on the beginning of MVP (M.Bitions V.O.Y.S. Productions), I can honestly say it was slowly molding itself ever since I learned to draw and use the camera on my phone. MVP came about because, I have always had so much ambition to do something positive or more for myself and others, so that's why the name was adopted.
The name MVP was discovered while sitting on my dad's couch in Omaha, Nebraska. Television turned off, home alone, and just thinking of my purpose and what I wanted to offer this world. I began to break down everything about myself and find the one true source outside of basketball that makes me happy. I was able to come to a conclusion of the fact that I love to create things to either help other people's ideas come to life or my own. And once that happened, I started feeling so ambitious of new ideas I wanted to create not just for me, but for anyone who had a vision. After what I was feeling and knowing what I wanted to do for other people the name came as smooth as butter. M stands for Mayo my last name. "Bitions" of course is just my short version of ambition, and the acronym V, O, Y, S, stands for "Visions of Your Success." That was a beautiful start of getting the name for my business, and the next step was designing my logo. It took a few different ideas, but it all came together.
The Middle: Like any business, you need to build creditability. So, around April (April 18th , 2017 to be exact) I decided to get my first camera, which I still use today, a Canon Rebel T7i. I posted the camera on Snapchat and because of that I think people automatically assumed that I was looking to do photography, but in my mind I was more focused on doing video, but being the businessman, or cheap person that I am, I said to myself that this camera cost too damn much to put a limit on what I can do with it. So, people eventually started asking for pictures and that was the birth of me doing photography. Luckily, I had a few mentors in photography that helped me start to get an idea of lighting and shooting different angles. I also want to give a big thanks to YouTube and all the people such as Justin Odisho, Yc Imaging, and Peter McKinnon who have put many helpful tutorials up that has allowed me to come a long way in both photography and video.
Honestly, I'm just getting started: To make a long story short, I decided to move back to Florida May 4th of 2017, where I felt and believed I had more opportunity for growth. I always wanted to do marketing, but I had nothing to show and I felt MVP was my platform to give to people for marketing jobs. The jobs I got hired for wasn't the style I wanted to do, so I took a leap of faith, risk of fear, trust in God, and decided to go out and find local businesses to be of service to.
The End: The mistakes and accomplishments taught me so much and I can honestly say that has been the most beautiful piece of this business growth process. In less than a year, I have been able to work with businesses, celebrities, radio stations, and more doing video and photos under my brand name. The vision from the start has changed to where it has no ceiling to what it could become. I decided not to limit my brand, just like the use of my camera, so I honestly can't say what the ending is. My best advice to anyone who is having trouble finding a purpose is to find that niche that they love waking up to and never NOT do something because someone else didn't believe in you.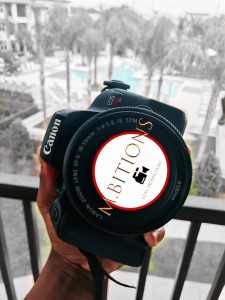 Check out more of Treston here!
Website: mbitionsvoys.com
Insta – @mbitionsvoys